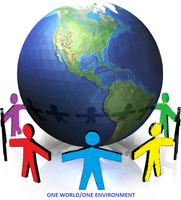 CALL FOR PARTICIPATION – STUDENT POSTER SESSION
The United States Environmental Protection Agency (EPA) and its Global Partners would like to invite you to participate in the first ever
1st INTERNATIONAL ENVIRONMENTAL YOUTH SYMPOSIUM
October 1st 2015 1:00pm – 5:00pm
October 2nd, 2015 9:00am – 5:00pm
Sam Nunn Atlanta Federal Center, Atlanta, GA
(on-line remote participation is foreseen)
Contact: Alfredo M. Ronchi +39 393 0629373, email alfredo.ronchi@polimi.it
As technology takes a greater presence in our everyday lives and the effects of climate change are seen regularly in our community, it makes sense for a global conversation to be initiated among our youth.
The U.S. Environmental Protection Agency (EPA) and its Global Partners would like to invite you to participate in the first ever, International Youth Environmental Symposium 2015. Centered on the theme of "One World, One Environment," the International Youth Environmental Symposium will be held at the Sam Nunn Atlanta Federal Center on October 2, 2015.
The Symposium aims to connect students and scholars from across disciplines and cultures to form lasting networks of research and governance.
Together with current stakeholders from universities, government and the industry, participants will discuss the problems of today to find the solutions of tomorrow. The Symposium will also host environmentally related speakers from the global sectors (Germany, France, China, South Africa, Brazil, and Italy), academia, industry, and the EPA. This Symposium is open to academic deans and college and university faculty, students, government, and industry.
A major feature of the symposium is the Sustainable Research and Poster Competition Presentation for High School and College Students. This year, judges will look at topics of interest submissions in the following category:
Climate Change: Adaptation, Resiliency, and Mitigation
Topics of Interest:
1: Technical Environmentalism (Green Apps)
2: Sustainable and Renewable Energy
3: Water Degradation/Coastal Impacts and Watershed Management
4: Urban Systems in the Environment
5: Sustainable Agriculture
6. Mitigation of Health Effects due to Climate Change
POSTER PRESENTATION DEFINED: A poster is a visual presentation of your research or clinical project. Use schematic diagrams, graphics, tables and other strategies to direct the visual attention of the viewer, rather than explaining it using text as you would in a journal article. A poster addresses one central question. State the question or hypothesis clearly in the poster and use your presentation to provide a clear and explicit message.
In order to register you must create your own password and create your profile. This is required for the committee to capture information on the students' school, county , if they are entering the poster competition and if they would like to order a box lunch if attending the Symposium.
Instructions:
Click on link
Create your password
Create your profile
Submit
If you have questions please contact:.
Marilyn Maycock – USEPA – Region 4
Acting Senior Advisor – Academic Institutions
QA Section Chief/ Microbiologist (404)562-8350
Caroline Y. Freeman-Robinson
Acting Deputy Assistant Regional Administrator
EPA Region 4
Office of Policy and Management
404-562-8976
May you need any clarification please refer to Alfredo M. Ronchi – Phone +39 393 0629373, email alfredo.ronchi@polimi.it
NOTE: remote participation is available through video-conferencing, posters will be sent electronically and printed out at destination.
Download "Poster contest announcement"